Jessica Simpson Ori Sandal
Another shoe name that I don't know--
The Jessica Simpson Ori
is a super cute
sandal
that comes in Gold and Bronze!
If you're curious like me, you'd find it interesting that Widipedia says
Ori
means the following things:
Ori is one of the Dwarves names in Norse Mythology
Ori is a godlike race in the fictional Stargate universe
Ori is a train station in South Korea
Haha, so regardless of the name, these are great sandals! As you can see from the photo of this Jessica Simpson shoe below, the Ori is made of a women leather upper, with a 3 1/4 inch heel.
The sandal also has a non-skid sole and a padded footbed for your comfort.
You'll love getting these shoes now, while summer is still here. These are a great beach, shopping, all purpose wedge.
Photo of the Jessica Simpson Ori Sandal: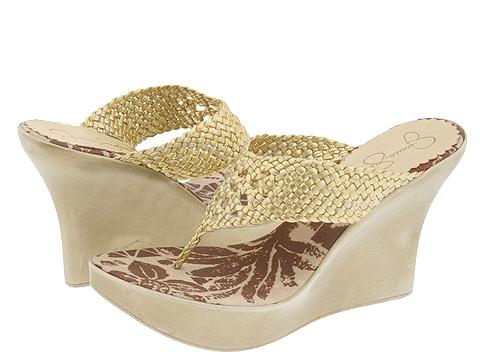 Sizes: 5.5, 6, 6.5, 7, 7.5, 8, 8.5, 9, 9.5, 10
Width: Medium
Color: Gold, Bronze
Price: $82.95
Shipping: Free from Zappos
Customer Reviews of the Jessica Simpson Ori Sandal
2006-03-31 22:36:56 Jessica Simpson Ori
Reviewer: Tamara S from Phoenix, Arizona
These shoes are so cute! My feet tend to run on the narrow side, and I found the leather too wide - My feet slipped quite a lot..I also had a hard time balancing on these, as the bottom is VERY narrow along the sole of the shoe - It tapers so it was hard to not wobble. If you're used to platforms though it should be fine. I'm sad to have to return them!
2006-03-02 22:13:27 Jessica Simpson Ori
Reviewer: Kelly from San Diego
cute, cute, cute! These are fun and will be great for summer. Everyday white sandals! These are great with capris or skirts or jeans. I love them! Fits true to size.
posted by Angela Copeland @ 10:41 PM